Priligyforsale.net Review:
Priligy (Generic Name: Dapoxetine) - Buy 30mg, 60mg, 90mg For Sale Online
- Priligy (Generic Name: Dapoxetine) - Buy 30mg, 60mg, 90mg For Sale Online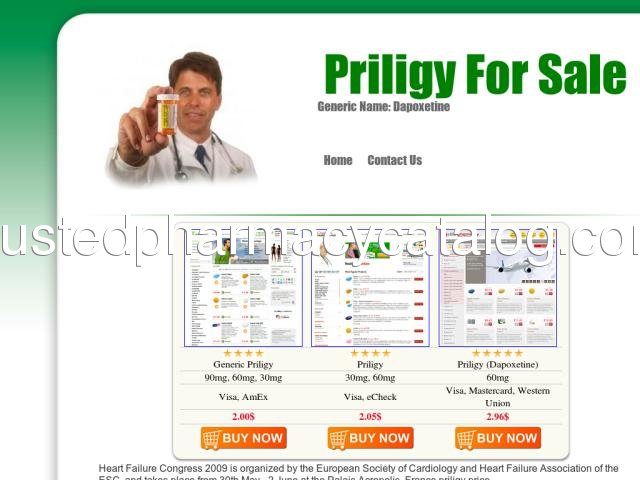 Country: North America, US, United States
City: 60690 Chicago, Illinois
N. McDaniel - Still going

I purchased this software originally three years ago and keep renewing. (I bought this version as a renewal key and also updated the software).

Works great--doesn't seem to be a resource hog.

I needed to update the Norton Firewall to allow access from my home network PCs (one of my Win 7 computers shares files), and I often disable the internet toolbars, but I have no complaints and will continue to use this software in the future as long as they still do a good job securing the PC without killing resources.
deadweather - best probiotic

I was diagnosed with Gastroparesis nearly a year ago, and since then I've tried a bunch of different probiotics (in addition to my medications) trying to find something that will make me feel somewhat better. Before Align, I was using Digestive Advantage Gas Defense Formula - it worked for a while if I took 2 a day but stopped being effective after about a month. With the Gastroparesis, I have horrible bloating, stomach pain, chest pain, nausea, chronic constipation, intestinal blockages, intestines constantly filling up with air, horrible pressure on stomach and intestines, and an extremely limited diet (basically I can eat things like baby food, cooked carrots, squash, broth-based soup, jello, baked apples without the skin, pudding and white rice, and no more than 1/2 cup of anything at a time..I can't eat anything that is high in fiber, has a tough skin, any leafy greens, raw fruits/vegetables or most cooked fruits/vegetables, anything fried or with a lot of fat, etc). I am also lactose intolerant and am sensitive to gluten.

The first week on Align was AWFUL - my waist is normally 22.5" and for over a week I was so bloated and puffy that my waist measured 27". I was extremely uncomfortable and was having bad chest pains and stomach pains, and bad gas (embarassing!), but my doctor told me to tough it up for at least three weeks before I made a decision about whether or not I wanted to continue.

I'm about to start my sixth week of Align and have never felt better! I still have the extremely limited diet/can only eat very small portions, but pretty much all of my other symptoms are completely gone. Once my body got used to the Align, the bloating/pain/gas went away; I am no longer constantly nauseous and bloated and no longer feel like I'm going to explode because of pressure build up. My bowels are completely normal for the first time basically in my whole life and for the first time in almost two years I am able to go out and do things with my friends without having extreme anxiety about possible GI problems.

Align has been a total lifesaver and I hope that it doesn't stop working like the Digestive Advantage did. As long as I am very strict about my diet, I feel about as normal and healthy as is possible for me. Before Align, I was very depressed and did not know how much longer I would be able to deal with the constant pain, nausea and discomfort. I am so thankful for Align and am relieved that my doctor persuaded me to continue taking it regardless of how bad it initially made me feel.

I would recommend this to anyone who has any sort of GI problem.
Jeffery K. Matheus - Excellent Concert DVD for those who love all-eras of RUSH

Within the last decade there has been no shortage of full-length concert DVDs from Canadian progressive rock supergroup Rush. There was "Rush in Rio" in 2003, "R30" in 2005, and "Snakes & Arrows Live" in 2008, as well as 2011's feature-length documentary, "Beyond the Lighted Stage", produced by filmmakers/Rush fans Sam Dunn & Scott McFadyen and their company Banger Productions (VH-1 Classics' Metal Evolution, "Iron Maiden: Flight 666", "Metal: A Headbangers Journey".) It's a testament to Dunn & McFadyen's camaraderie with the band that when the time came to document this 2011 performance at the Quickens Loans Arena in Cleveland Ohio, the job went to them. It's a good thing, too. While I've been impressed in varying degrees with all of the aforementioned concert DVDs ("Snakes and Arrows Live", in particular) I must say that this new DVD seems to be better filmed, with more of an eye towards detail. From close-up views of Alex Lifeson's guitar techniques, to Neil Peart's feet stomping out a particularly tricky bass pedal rhythm, to all the set pieces, visual jokes and video screen presentations - it's pretty obvious that this was produced by people who know and love the music.

Now, for a band with so many live DVDs on the market, does "Time Machine" offer anything that Rush fans haven't seen and heard before? For those who care about Rush beyond just their 'greatest hits', the answer is definitely yes. One thing that makes Rush's live shows superior to many other bands still surviving from the 70s and 80s is that Rush actually shakes-up their set-list a bit from tour to tour. Of course they don't (and shouldn't) leave out their most well-known FM radio staples (Spirit of Radio, Tom Sawyer, Closer To the Heart, Working Man), but for this tour they even went a step further, including a complete performance of their most popular album, 1980's "Moving Pictures". For fans of that particular album, the performances and visual presentation of these classic tracks are all top-notch and alone worth the price of the DVD - particularly the showstopping rendition of "The Camera Eye", which easily surpasses the power of the studio version. But, believe it or not, the 'hits' only makes up about half of this 3 hour show. For me, and I suspect a lot of other Rush fans, the real treat with these marathon concert DVDs is hearing some of the newer material live, and finding out which lesser-known album tracks from the past will get dusted-off for rediscovery. Keeping with the "Time Machine" theme, the set-list is cobbled-together from all of the band's various eras or "phases". "2112 Overture/Temples of Syrinx" and "La Villa Strangiato" represent a taste of the 70's 'concept album' period, which no doubt ushered many-a-proghead onto the Rush bandwagon. The 80s 'synthesizer' period is nicely-represented here by "Time Stand Still", "Marathon" (a personal favorite of mine) and powerful "Subdivisions", which serves as an emotional climax to the opening set. The title track from 1989's "Presto" is an unexpected (but very welcome) inclusion, providing a subdued contrast to the show's heavier moments. From 1993's "Counterparts" we get the tasty instrumental workout "Leave That Thing Alone", featuring some wonderfully nimble-fingered bass work from Geddy Lee, as well as a raucous rendition of "Stick It Out" which rates as one of my favorite performances on the entire DVD. 2007's "Snakes & Arrows" is represented by a trio of tracks, ""Workin' Them Angels", "Far Cry", & "Faithless". All of them come across excellent in the live setting, but "Faithless" is a particular treat as it's wasn't included on the DVD of the "Snakes & Arrows" tour. There are also two nods to the future with "BU2B" and "Caravan", previews from the band's next album "Clockwork Angels", due in 2012. Both tracks are incrediblely gripping live, and are full to the brim with monster heavy riffs and dark atmosphere - proving that Rush's post-70's output has not always as "soft" as some of the band's critics like to claim.

While much could be said about the huge stage production found here (with video screens, explosions, towers of flames, comedic film skits, and even a guy in a chicken suit), the real 'show' comes from the three musicians themselves. Their on-stage energy, whether clowning around or intensely absorbed in a musical moment, is palpable and a true joy to behold. At a time when many other vintage bands only seem to tolerate each other for the sake of money, it's obvious that Lee, Peart and Lifeson are still friends with a lot of mutual respect for one another.

From a technical standpoint, their are two sound-mixes to choose from - 2.1 Stereo or DTS. I don't have a DTS system, so can't comment on that version, but the ordinary stereo mix sounds quite full and dynamic, whether using headphones or speakers. However, I must sat that the previous DVD, "Snakes and Arrows Live", had a clearer 'separation' effect when listened to with headphones - at least to my ears.

All in all, this DVD should not be missed by anyone who calls themselves a Rush fan, and it certainly whets the appetite for the new album, coming later this year.