Namas.co Review:
NAMAS - National Alliance of Medical Auditing Specialists
- NAMAS is an industry leader in the Medical Auditing field. Offering auditing services, continuing education, certification, and other services.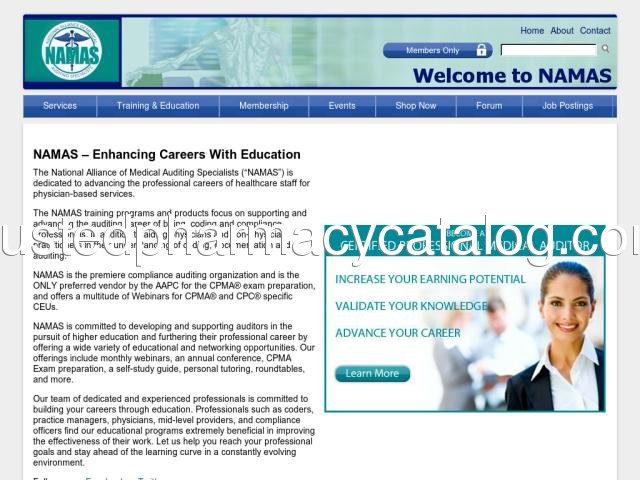 Country: North America, US, United States
City: 77002 Houston, Texas
Mary Bankhead - Chillow brought relief for chemo induced menopause in young woman with breast cancer

The chillow has changed my daughter's life. She is suffering from chemo induced menopause and this has made sleeping at night possible. A research trial nurse suggested it and we are so grateful. This product should be marketed for this group of women and carried in the shops located at treatment centers.
andy@fretwell.globalnet.co.uk - A complete cure

Have suffered with what is variously diagnosed as irritable bowel, colitis etc. All I know is that none of the consultant physicians I consulted even bothered to mention what I was eating! they were all very hapy to fill me full of steriods and other dangerous drugs though. I saw immediate improvements in my symptoms within one week, and have now been symptom free and off all medication for many months. I'm sure the medics will just say I'm in remission. Or maybe I've removed the causes of the damage to my intestines and miracle of miracles they just got better. It is a difficult diet to follow but it sure is worth it.
Erin Casper - Dear Lilly

I was overwhelmed with emotion while reading Dear Lilly. Each page brought me closer and closer to memories of my past. All the trial and errors that we all experienced during youth, were brought out in every page. Greysons words to his daughter, include the moments that changed his life forever and warn against the harsh realities of today. This book explains the right of passage into adulthood, and how to overcome all the bad that it includes. I loved this book and strongly recommend it to all.
Susan A. Newlin - Are we truly a nation of the free?

This story makes the reader realize what prejudice exists within our systems of justice and within the people that administer the systems. America is seen as a land of opportunity for people wanting freedom and the ability to use their own gumption and skills, yet this story shows how our American system can beat that down with prejudice. It's something that should be included in high school reading and discussions of how to improve our systems to meet our ideals.
K. Klecker "el n00bo loco" - Sleek unibody design, great interface, every feature you could want!

I want to preface this review with the fact that I have owned 2 android devices, a Windows Phone 7 device and for business have used an iPhone and a Blackberry...so I am not a life long Windows Phone fan-boy, I consider myself a convert :)

What I love:
Starting with the design. It is astounding how well crafted this device is. It is amazing what they packed into this phone. The curved glass is one of the highlights, as it just adds to the aesthetic. Like some reviews out there say, it is heavy...but it is nearly the same weight as my last two phones and it is thinner. So yes, it is heavier than some of the cheap feeling devices out there, but it feels solid and this is well outweighed by all this phone has going for it. I have normal sized hands and it feels good in the hand...and I can typically do everything I need to with one hand.

Windows Phone 8 is much improved over 7. It is quicker, and it now includes all the little things left out in 7. e.g. I can now use the ACCURATE voice command to type emails - I LOVE THIS! The keyboard is phenomenal as it predicts words and auto corrects without issues. It really is amazing. I can say that it has an app for everything I personally need, even though a small number of key apps are not represented. However, with the news of developers wanting increasing profit on WP8, I am sure this will be resolved in due time. Instagram??? Who needs it, we got 4 VERY suitable alternatives (and they don't all take the rights to your images like Facebook's own Instagram). I can say that the only app I wish was on WP8 is Waze...but I can make due with it.

The Nokia Drive/Maps are great, and easy to use...I am excited for the "My Commute" that is coming. Nokia also has great apps for doing great things with video and photos (cinemagraph, smartshoot, photobeamer). The Nokia music app gives you a ton of music and channels but it does eat a lot of battery in the background.

The camera has been great for me...never taken a bad shot in the 200 some photos I have taken. Night shots are amazing, especially the lights during the Holidays. The screen is excellent on many levels 1)the super-sensitive touch option is handy 2)the screen is the perfect size to use for web browsing, etc 3)the HD resolution makes everything BEAUTIFUL...even pictures of me ;) Wireless charging is much handier than I expected, but there is something about just setting my phone down to charge that puts my mind at ease. Haven't used NFC beyond sharing photos, but I am excited to see more accessories utilize it. The call quality is great, and the HAAC microphone is awesome...my only issue is a slight issue getting my ear in the right spot for optimum hearing during calls.

On to what I think could be better...
Battery life is not what I hoped when I read the battery size...HOWEVER if you do charge it fully the first time and let it drain a few times it gets better. I have had mine for over a month and my battery life is still getting better. GIVE IT TIME. I went from about 7-8 hours during heavy use to about 18-20 hours. It last me all day now, without an issue...even with everything enabled (like bluetooth, wifi, nfc, etc).

Next, Bluetooth issue...although this is supposed to be on the docket for this month's OTA update. Bluetooth is quirky, sometimes it connects, sometimes it doesn't. Windows phone used to use the phone's microphone for the voice command in my car. Now it waits for input from my cars bluetooth which never connects because it is an older bluetooth revision. IRRITATING! Sometimes I also pickup a call in my car and it doesn't use the bluetooth until I hit the in-call bluetooth button.

Xbox music...Ohhhhh, where do I begin? This is a travesty. Any of us that have used the Zune software are in for a major let down. This platform is not user friendly. Importing libraries/playlists is a waste of time because it will NEVER be how you want it to be. Syncing is difficult, and managing your music is a disaster. Podcasts don't seem to be important to Microsoft as they don't give the consumer any options. You have to subscribe via the phone, and you can not add custom URLs or premium subscription podcasts. I called MS and they recommended I download the podcasts via the old Zune software and add them to my music library. Only problem is that they now show up as SONGS and don't track what I listen to or update/sync. SHAME ON MICROSOFT...Maybe Nokia should make another awesome app to handle podcasts since Microsoft doesn't care.

Pros
-Awesome design and build quality
-Screen is beautiful
-Loaded with features (wireless charging, NFC, sensitive screen, best camera you can find)
-Nokia's apps are well worth the download. (Drive is a free Navi app that has locally stored maps to avoid lag/connection/data usage, Music is great option for the audiophiles, all the camera apps come in handy)

Cons
Xbox Music is not up to par with music apps, and syncing is a pain.
Bluetooth quirks
Initial battery life (as I said, it gets better...I PROMISE)
Pre-loaded software (as usual, the carrier loads this phone with a ton of apps disguised as free that actually rope you into a subscription fee, they add unnecessary numbers into your contacts,etc). Also, the boot process is slow because the need to display the AT&T boot screen, the Nokia boot screen, and then the Windows Phone boot screen...WE ALL KNOW WHO MAKES THE PHONE AND OFFERS THE SERVICE... Not necessary!

I have had this phone for over a month and don't regret a moment of it. I love this phone!