Midtownclinic.ca Review:
Midtown Medical Clinic
- Midtown Medical Clinic & - Your full Service Family Practice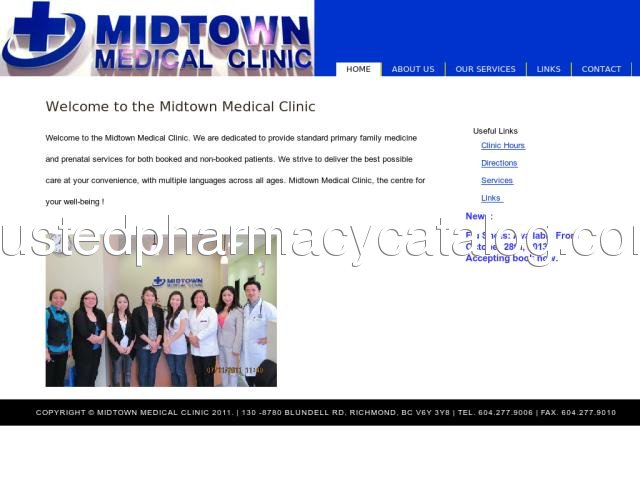 Country: North America, CA, Canada
City: L4X Mississauga, Ontario
John D. Cofield - A Calendar Worthy Of Middle-earth!The official Tolkien calendar for 2013 is a pleasant change from the 2011 and 2012 calendars, which featured more abstract and in many ways rudimentary illustrations by Cor Blok. The 2013 edition focusses on The Hobbit and contains art from two of the best known Tolkien illustrators, John Howe and Alan Lee. The paintings are vivid, detailed, and highly appealing.

Howe and Lee each contributed six illustrations for this calendar, with additional sketches and pencil drawings being used as backgrounds for the monthly grids and for the large centerfold. The artists' work is complementary although their styles are different. Howe prefers brighter colors than Lee, while Lee favors paler shades and larger landscapes, but I find both equally appealing. I especially appreciated the illustrations which were clearly inspired by some of Tolkien's own art, such as March's view of the interior of Bag End and September's Eagle's Eyrie, both by Howe. I also enjoyed January (Howe) and February (Lee)'s selections, both of which feature the front door of Bag End and allow a wider view of the Shire. By the way, if you are familiar with The Lord of the Rings movies some of the paintings may seem familiar, which is not surprising since both Lee and Howe were involved in creating the films.

I will enjoy using this calendar in 2013, and I hope that future Tolkien calendars will continue to use artists whose works so beautifully depict the lands of Middle-earth.
Jodi Chapters "Chapters and Chats" - A Story With HeartWho Asked You?

You may recognize Terry McMillan as the author who has written several novels that have been turned into movies. We all laughed and cried while watching "How Stella Got Her Groove Back" and "Waiting to Exhale." Her new novel "Who Asked You?" will again have your emotions running the gambit.

This is a fiction with heart. The circle of friends and family is both supportive and highly dysfunctional at the same time and I'm pretty sure we all know a family, or are a family, that resembles the one in this book, and that is what brings "Who Asked You?" into the real world.

Betty Jean (BJ), Arlene and Venetia are three sisters living very different lives. Betty is the unchallenged family matriarch, the glue that binds the family. Married with three children; Quentin, the oldest is a chiropractor blowing through relationships and wives living in an upscale neighborhood, and ashamed of his family roots. Dexter is the middle child. He's in prison for a crime he won't take responsibility for, and Trinetta the youngest child; a single drug addicted mother of three.

When Trinetta drops her sons Luther and Ricky off with BJ for what is supposed to be for a week and ends up being several years, BJ's sisters Arlene and Venetia have no trouble giving their opinions on how to raise the boys and in fact, pretty much how to live her life although both are struggling with their own lives.

The cast of characters is rounded out with Venetia's newly outed gay son, Arlene's philandering husband and BJ's husband who is debilitated with Alzheimer's and her neighbor and longtime friend Tammy. All of McMillan's characters are well developed with each their quirks and traits are revealed one layer at a time giving more depth and allowing the reader to connect.

The plot is well laid out however it feels a little rushed toward the end of the book. With moments of hilarity and heartbreak, the story is truly engaging and makes for a read you won't want to put down.

Bottom line: pick up the book for yourself and another copy or two as gifts for your friends. "Who Asked You?" is a book that should be one everyone's fall reading list.

Hardcover Edition: ISBN: 978-0-670-785698, 400 pages, $27.95

Disclaimer: The ARC of this book was given to me by Viking div of Penguin Publishing in exchange for an honest and unbiased review.